So I've had a few people wondering about this rag quilt that I've been working on and posted on my facebook page. I've been obsessed with wanting to make one for a while but had no idea how to go about it. So what I did was searched via Google for multiple tutorials and piles of advice to compile my own way of doing it. So I'll post what I've learned here for you, and hopefully you'll be able to do one as well.
Supply List
:
Fabric *

Batting
**
Scissors/Rotary Blade
Cutting Mat or paper square to use as your pattern
Thread
Sewing Machine
*Recommended fabrics: Cotton or Flannel (I STRONGLY advise against using minky or chenille)
Approximately 3 yards total for a baby, approx 6 yards for an adult.
**Batting: You have options here. You can use regular cotton batting, an extra layer of flannel, or you can use scrap pieces of fleece (even if it doesn't match). You won't see it in the finished project so don't worry about that!
(****UPDATE: I have since made a few more of these quilts...LOVE them. But I have TWO suggestions. ONE: Use flannel for the batting. Cut your flannel squares the same size as your top and bottom fabric, makes the seams REALLY fluffy and soft!! Be conscious of the color you choose, because you will see it!! And TWO: I like a 10x10 square...you end up with 9x9 and it's the perfect size for a larger printed fabric!!****)
Step 1:
You'll need to cut out your squares. For this particular quilt, I used cotton and cut out 7x7 inch squares. You can make your squares smaller or larger depending on your preferences. If you're going to create a specific pattern, I suggest drawing it out on paper first to see how many squares you'll need of each color/print. However many squares you use for the top, double it. You'll also need squares for the back.
You're also going to cut out squares of your batting. These squares need to be one inch smaller than the fabric squares. So 6x6 inches for my quilt.
Step 2:
Once you have all your squares cut out, what you'll do is make some sandwiches. Bottom square upside down, batting in the center, and fabric again on top, right side up. Like this: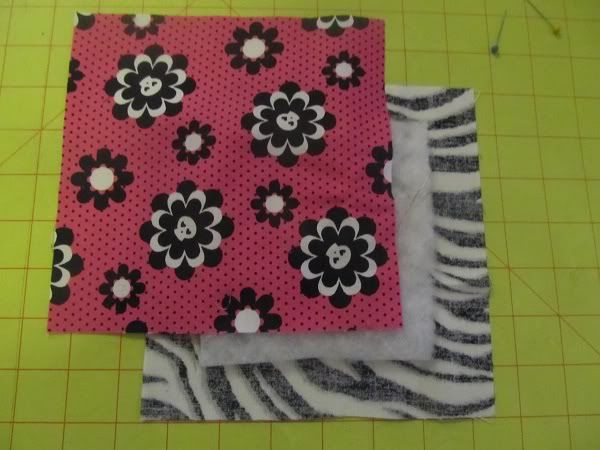 Pin your squares together using longer quilting pins. They work better than the little ones and keep your squares straight and tight:
Step 3:

Next, you'll sew an X through the center of each square. This doesn't have to be perfect as this is really just a stitch to hold your sandwiches together.
Be careful not to sew all the way to the edge!!! You'll need the seam allowance later. I use a 1/2 inch allowance!


When you're done sewing your squares, we move on to putting them together to form what will be your quilt.
Step 4:
Next, what we'll do is take two of your squares and stitch them together. Make sure when we start this step if you're doing a specific pattern, watch out for your squares to make sure you'll stitching the correct ones together. So take two of your squares: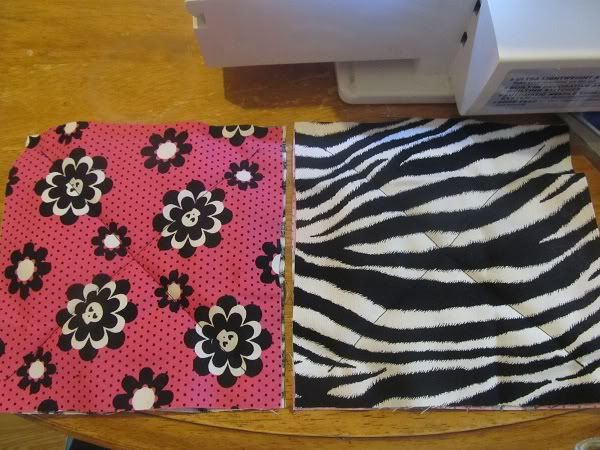 Pin them to hold them together: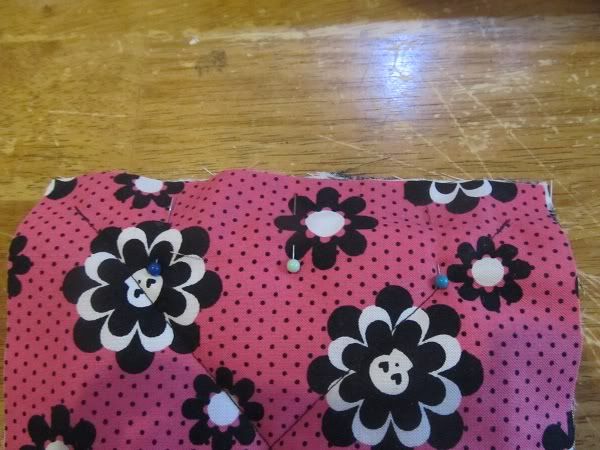 Then stitch them together, but again, be careful not to sew to the ends!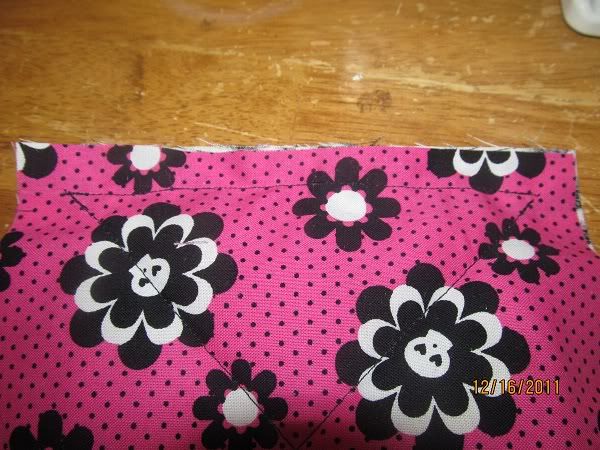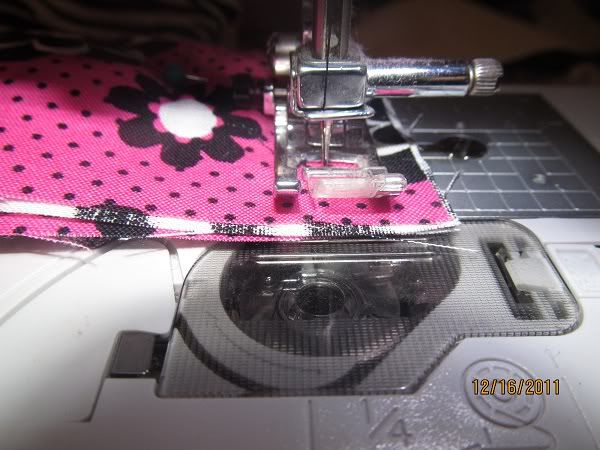 Step 5:

Now that you have two sewn together, at this point, I like to begin snipping my seams, simply because my hands can't handle doing it all at once. So if you'd like to do that now, you can, but if you'd like to wait till the end, that's okay too. If you're doing it now, use the seam you've just sewn and inside of the seam, snip little slits thru your fabric.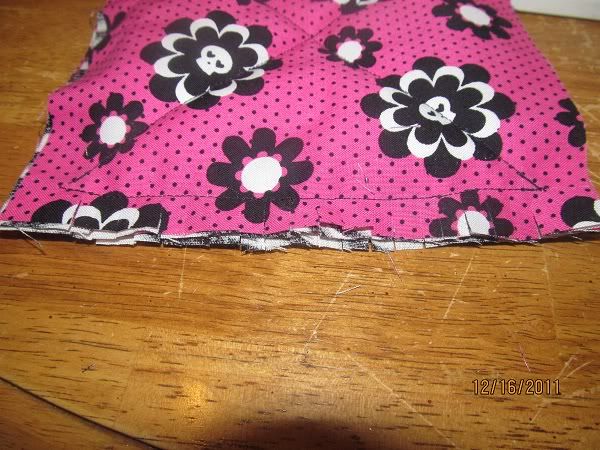 When you open up your two squares, here's what you should see:
Step 6:

Continue sewing your squares together until you have a long row that mimics a good length for the person you're making the quilt for. When you have two full rows sewn together, the next thing we're going to do is sew the two rows together. Line them up, pinning as you go, remember to make sure your fringy side is facing out, and the side that is smooth will be on the inside: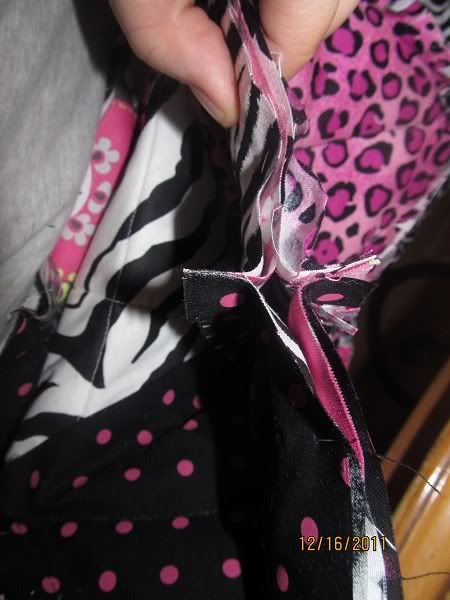 AGAIN: DO NOT SEW ALL THE WAY TO THE EDGES!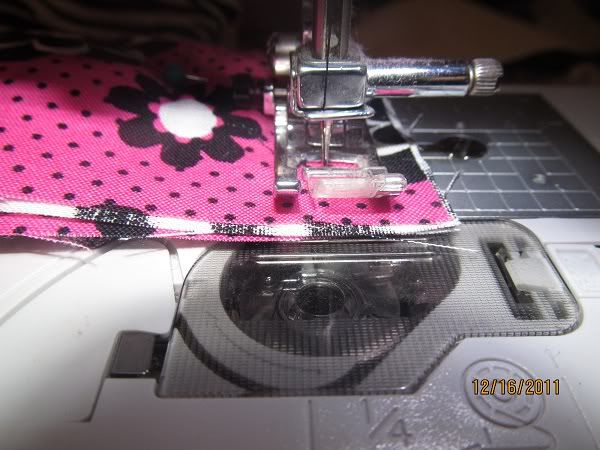 Step 7:
Continue sewing all your rows together as you go. Remember, if you'd like to snip your seams, you can, or do it at the end.
Eventually your quilt will begin to take shape.
Step 8:
If you don't like the finished size (like I didn't!), continue to add rows to the sides and top and bottom until it's the size you like.


Step 9:

When you're satisfied with the size of your quilt, you'll stitch all around the outside and snip.
In order for your snipped edges to really fray and get fluffy and soft, you'll need to wash and dry your quilt a couple times to really get the fraying going.
Here's mine finished (Maybe! I think I may go bigger!) before the washing:


Then you're done. Happy sewing!






Did you enjoy this tutorial? Donate so I can post more!