So I came across a BRILLIANT tutorial online for an Heirloom style Chenille Quilt over at
Aesthetic Nest
and I fell in love instantly. I loved it because I knew that even the most inexperienced seamstress could do this and have something LOVELY to give as a gift, or even keep for themselves. I also knew I had to give this tutorial a try....except I had no Chevron printed cotton. Hmmm, what to do. So I improvised and what came of it is beautiful.
I'll do a basic outline here of what I did, but sadly, I have no photos.
Step one: Gather the materials.
Two spools of thread (maybe three!)
Pins
Quilt binding. Make your own or buy it prepackaged. If you do prepackaged, you'll need two packs.
You'll need 4 yards of fabric.
1 yard of your print and 3 yards of flannel, in 1 yard cuts and if you want, you can do three different colors too.
Step Two: Stack that fabric!
Pretty printed cotton on bottom, face down. Then place your flannels on top of that, stacked neatly. Then pin generously. I mean it. PIN IT.
Step Three: Find your bias.
Bias is a fancy term for "the diagonal" or the cross threading in fabric. Basically, it's at a 45 degree angle. You can find it by taking a corner of your fabric stack, and folding in half diagaonally. Press with your iron or use a disappearing ink fabric marker to mark it.
(I did not do this on my quilt, and it was a mistake. I made it work, but if you're an inexperienced sewer, find your bias)
Step Four: SEW! (GET READY, LOTS of sewing here.....)
Using a straight stitch, sew down your diagonal mark. Then, using that diagonal stitch as a guide, move over 1/2 an inch and stitch. You can use your presser foot as a guide. Keep sewing, all the way across your fabric. It'll create the quilted look.
Step Five: Make your cuts.
On the backside (flannel side), take a pair of scissors and cut thru the top two layers of flannel in between your seams.
Step Six: Bind your quilt.
Sew on your binding however you like it sewn.
Step Seven:
Wash and dry your blanket and snuggle up in the cuddly-ness. Is that a word? Nah? It is now!
Here's mine: Once you ogle it, I'll tell you what I did wrong and how I fixed it.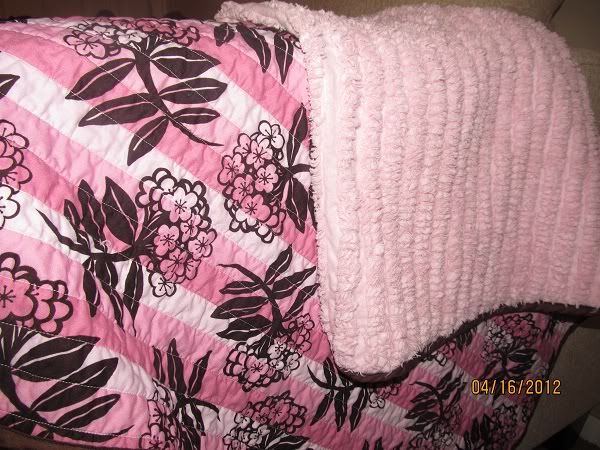 On my quilt, you'll see my fabric had stripes on it. I followed those stripes. But the stripes were an inch wide. So when I made the cuts in my flannel on the back, the fabric didn't fray like it should. This quilt reminded me of a rag quilt, but fully raggy on the back. I went with that in my mind and sat for hours clipping all those rows of flannel. When I pulled it out of the dryer, I was astonished and loved it anyway!!! It's SO plush and beautiful and purely divine softness.
So I don't think you can really do this blanket wrong. But if you've got questions head over to the blue link for Aesthetic Nest's tutorial above. And happy sewing :)